Containerised Water Purification Systems
If you have limited space or no dedicated plant room, containerised water purification systems may be perfect for you. We design, manufacture, install, and service these systems.
Water treatment and water purification systems can be built into modified ISO shipping containers. This approach provides the complete turnkey solution for the client who has no dedicated plant room or is limited for space.
Request a consultation with us
The complete package can be manufactured, installed, commissioned and tested at the Wychwood factory, providing the client with a completed package that can be positioned and connected up.
The containers themselves are new single-use. They can be supplied in specified colours and finishes.
Read our Case Studies to learn more about our range of containerised water systems.
A range of container options are available, including the following:
Steel half-glazed lockable pedestrian access door

Recessed flange interface plate facilitating all pipework connections

Industrial grade lighting with two switch points

Insulation and cladding of all external skins

Temperature control (heating and cooling)

The containerised approach is particularly suitable to export situations, providing secure shipping and minimising expensive onsite installation labour.
If you would like to learn about which filtration system will be most effective for your business, please get in touch with us today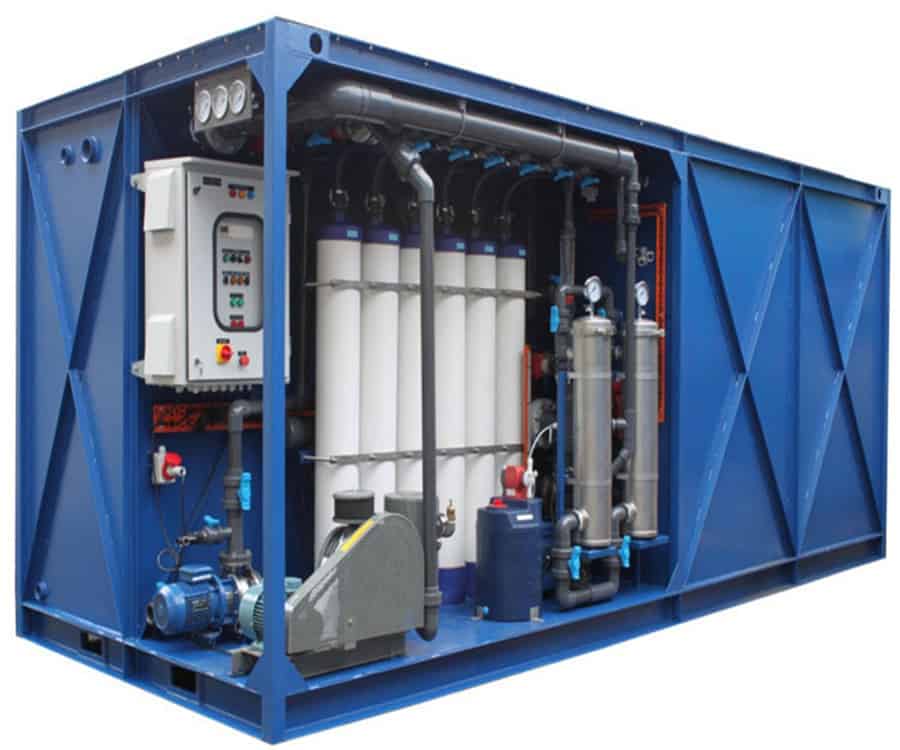 What Are the Benefits of Containerised Water Purification Systems?
The benefits of containerised water purification Systems are considerable:
You do not need to build a plant room – all that is required is a hard standing.
The container can be craned into difficult locations or even stacked to save space.
You can inspect and test the complete package before it is shipped to the site
Installation and commissioning are kept to an absolute minimum.
This containerised approach is also very practical for export situations where the complete finalised package can be shipped overseas.
"Having an old De-Alk plant we were in a position to upgrade and went out to tender. Wychwood Water were one of the companies to respond, organising a full site visit and answering all questions fully and in great detail. The knowledge from Wychwood was second to none and any questions we had were quickly answered. Everything from the tender response to install went smoothly without any issues. I would definitely recommend Wychwood Water if you are looking for a comprehensive, professional company." Jonathan Patman
Some examples where this approach has been used with great success are Azerbaijan oil exploration, Sierra Leone Iron ore extraction, Mongolia mining, UK Municipal water company and Railway antifreeze generation.
Request a
consultation with A WATER EXPERT
Wychwood Water needs the contact information you provide to us to contact you about our products and services. You may unsubscribe from these communications at anytime. For information on how to unsubscribe, as well as our privacy practices and commitment to protecting your privacy, check out our Privacy Policy.